September 27, 2021 | by Luke Morales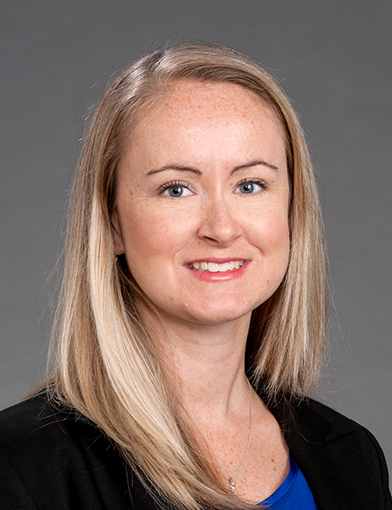 What inspired Dr. Chandylen Nightingale's focus on cancer survivorship research? Passion.
As Nightingale's graduate school research in head and neck cancers took her into a cancer center daily, she says she saw a troubling pattern: patients were "coming with their family caregivers who were completely overwhelmed, really struggling and not being tended to in the way that patients were—nobody was really taking the time to ask the caregiver how they were doing, to think about what resources they might need."
How did Nightingale respond? With research.
The National Cancer Institute defines cancer survivors as not only individuals who have been diagnosed with cancer, but also their informal or unpaid family caregivers—who are a critical part of a patient's treatment process. Inspired by her direct experience with the challenges of caregivers, Nightingale began to conduct research to identify ways to support family caregivers during the cancer experience. "I went to the literature, and at that time I saw that there really was not a lot that was specific to head and neck cancer caregiving."
"In recent years," Nightingale says, "we've seen pretty big growth and different types of resources and interventions that have been directed at caregivers." But often, she notes, these initiatives are not sustained outside of the research context—"oftentimes caregivers aren't aware of the resources available to them" This is what led to the framework of Nightingale's KL2 research project.
The Mentored Career Development Program exists to support early-career investigators as they build their research careers. As Nightingale says,
"That is what really sold the KL2: Having the opportunity and protected time to take a step back and learn a new skill and apply it to my programmatic research."
---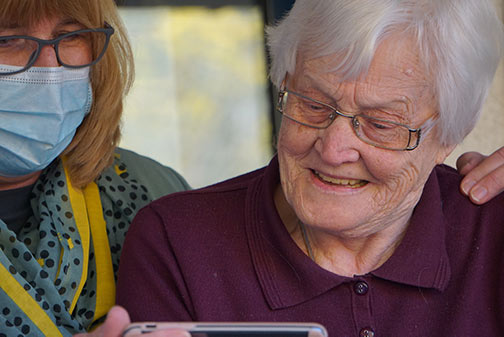 Since receiving the award, Nightingale's research has expanded in surprising ways.
"I'm fortunate that my intervention was a web-based intervention," says Nightingale. "When the COVID-19 pandemic began, we weren't allowed to go into the clinic for a while, but even when patients were able to come back into the hospital, caregivers still weren't allowed to be with patients, so we really had to adapt our approach."
But as Nightingale's methods continue to be pushed in new directions with the impact of COVID-19, it became necessary to consider different approaches to implementation. Nightingale shares, "oftentimes outside of the research context, the service goes away... there's either an issue of money or maybe it requires too much provider time. But if you can integrate technology into your intervention approach, while there's going to be some cost upfront, hopefully—ultimately—the goal is that you've created a piece of technology that you could then adapt for different clinics and different populations."
The benefits of mentorship
Nightingale was mentored by Kathryn Weaver, PhD, MPH; David Miller, MD; Mercedes Porosnicu, MD; and Katherine Sterba, PhD, MPH (of the Medical University of South Carolina)
The study's primary tool was developed in Collaboration with the Center for Healthcare Innovations.
Nightingale immensely benefited from a key component of the program: the mentoring team. "I am really fortunate that I had amazing mentors," Nightingale says, explaining that the interdisciplinary nature of the mentoring team significantly increased the reach and strength of her research. "Every time I would run into barriers, each mentor shared a different perspective. It would have been a completely different experience if everyone had had the same sort of training background. I think it really strengthened my application and allowed me to be a little bit more flexible in my approach to tackling project barriers."
Nightingale remembers a particularly helpful moment when it was clear that adjustments would need to be made due to the pandemic: "The tool we created connects cancer caregivers with resources and includes automated referrals. Even considering this idea made me really nervous because I'm not a clinician—I was immediately concerned about insurance implications or, in some cases, I just didn't know what was involved! But we have two clinicians on our team, and they are very familiar with working in WakeOne. So that was just a good example of how working with someone who had that clinical background and experience was able to help."
Next Steps for the Future
As recruitment continues (Nightingale is recruiting 40 dyads of cancer patients and their caregivers—a total of 80 participants), she is already envisioning the future: "The next step would be to do a larger study where we can look at efficacy—determining if this intervention actually improves some key caregiver outcomes—and then also looking at some of the patient outcomes as well." The ultimate goal is sustainable implementation. As Nightingale says, "if it's not something that's going to stick around and really stand the test of time—then why are we doing this research, right?"
The CTSI KL2 Mentored Career Development Award provides two years of support for early-career faculty. KL2 Research Scholars receive:
75% salary support for two years,
up to $35,000/year to support educational and research plans,
an Individual Development Plan, and
a multi-disciplinary mentoring team
Thinking about applying for a KL2?
When asked how she would encourage others to apply, Nightingale responds thoughtfully: "With the KL2 you really have that opportunity to talk about where you've been in your research career and where you want to go, but also to really demonstrate your passion. That's not something you would necessarily integrate into an R-series NIH application, which is what many of us are used to applying to. Don't be afraid to show your passion for the subject—your enthusiasm for the subject—I think they really appreciate that from the committee. And I think it's also really important to show why you can't take this next step in your career without the KL2."
Nightingale added, "I think it's also worth mentioning that I applied two years in a row, and I didn't get it the first year."
She explained that she ultimately did not make the cut in her initial application and was undecided if she would apply again—"but I really took to heart the feedback that the committee gave me that first year and worked hard to integrate that into my application and make it stronger. I'm so happy that I did because it's just been a phenomenal experience."
---
Interested in applying for the KL2?
The 2022-2024 KL2 Award RFA is Open Now. Learn more or contact Claudia Olivier at colivier@wakehealth.edu for more information.
---