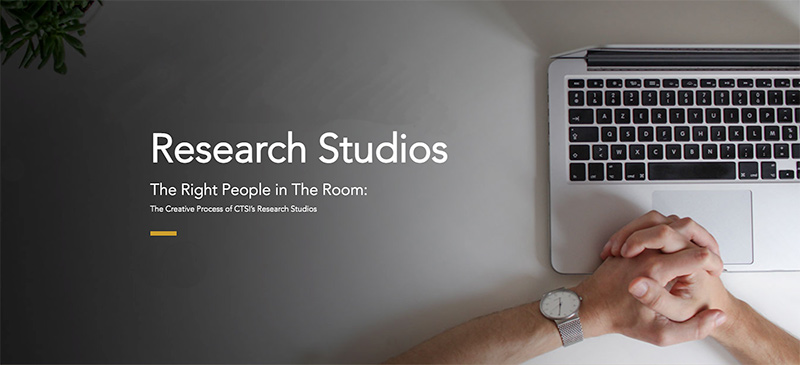 January 2021 | by Luke Morales
What's a Research Studio?
CTSI's Team Science Program created the Research Studio to meet the sometimes difficult-to-define needs around crafting grant proposals, finding collaborators, and fleshing out study teams. How will the study be designed?
Is the hypothesis clear and succinct, yet robust enough to make a meaningful impact? How will the trial be implemented, measured, and finally translated?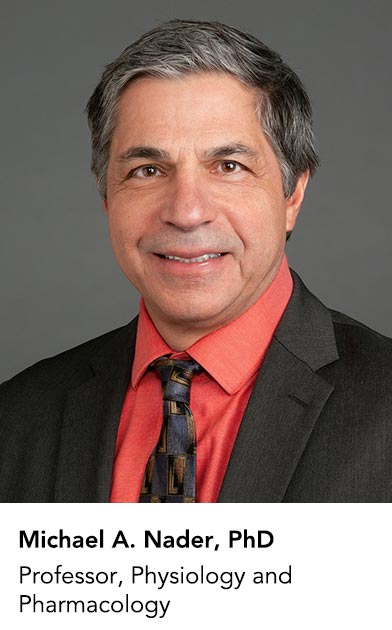 Team Science Associate Program Leader Michael Nader, PhD says, "With the increased emphasis on translational research, a Research Studio can help an investigator solve a particular problem or answer a question."

Christina Hugenschmidt, PhD was familiar with the idea of a Research Studio: "I think I was open to it in part because my husband is an architect. I had an idea of what a studio is because in architecture school they had studios and the studio discussion would be you put your project up, and the jury and everybody there, like they chime in and they all tell you their thoughts on your project."
This studio concept is familiar to many industries—and is exactly what Nader, wanted from the program: Often when we schedule a Research Studio, it involves gathering clinical and basic science research experts some of whom have never talked to one another before. Bringing together interdisciplinary experts to request their unique perspectives and insight can be valuable for an investigator when securing funding for a research project." As Hugenschmidt summarizes, "to me it's a design thinking process. I think sometimes people don't realize the value of it because they don't really know what it is."


The Rough Idea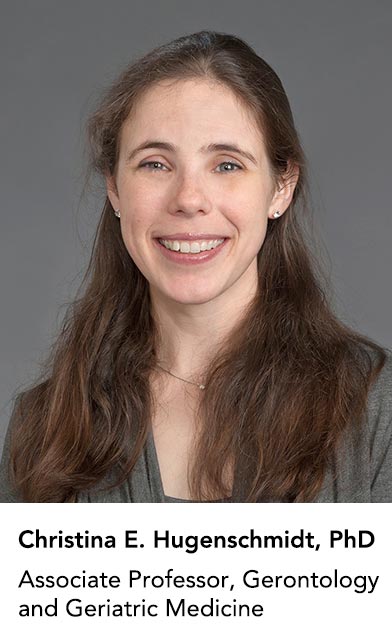 Now having experienced CTSI's Research Studio twice, Hugenschmidt is an ardent fan. She says, "One of the interesting things with grant writing is—especially when you're looking at these complex health related questions—there are a lot of different ways you can ask the [research] question. There's no way to ask all the questions at one time, so you kind of have to make choices about what is going to be the next best question. What way can we pose this question to get the most information with the resources that we have?"
When Hugenschmidt and her collaborator, Wake Forest University's
Christina Tsoules Soriano
, brought their research questions to an initial Research Studio in 2016, they had some significant questions and gaps in the scope and measurement of their study. Their base idea: How does improvisational dance affect cognitive and brain health in patients with cognitive decline? Hugenschmidt and Soriano identified three major gaps in knowledge they were interested in exploring.
At the time of their first Research Studio, Hugenschmidt already had some experience with fielding skepticism: "The odds of getting NIH grant funded to study improvisational dance? Not high, right? The first few times we threw this idea out to people they were like
this is the craziest stuff I've ever heard.
" But after the Research Studio, Hugenschmidt's study was funded after the first submission.
Collaborative Input
But who are the players within the Studio itself? As Hugenschmidt explains, she knew there were experts she wanted involved in her Studio process. "One of the most valuable pieces of the studio is it is very hard to get the right people in a room for even an hour or two, when you need them and to get their attention. So, it's really valuable to have CTSI staff who are organizing that piece for you." Hugenschmidt reports the CTSI Team Science team encouraged the involvement of other experts she'd not even considered initially, connecting dots she may have missed. She says, "I was like, you're right—that person needs to be in the room. That it really helps. In terms of the people in the room, you don't want to have gaps when you're putting a grant in."

Vulnerability and Willingness
Hugenschmidt emphasizes the value of bringing the rough ideas to the Research Studio table. "It's really important because when your grant is reviewed it's going to be reviewed by people who have different subsets of expertise. So, even if somebody reading my grant as an imaging expert, they're not going to be a dance expert; or a dance expert—they're probably not an imaging expert. So, the imaging sections need to be written with a professionalism that an imager can interpret them but also with a language that a non-imager can interpret them."
Translation, the cornerstone of translational science, is essential for research collaboration to thrive. Hugenschmidt emphasizes the importance of patience in this process: "How do we take this nugget of something that we think has value and translate that into something that people from other disciplines can also see the value in it? How do we put this into words that other scientific people can understand that value and put that into their frame of reference?"
Game-Changing Insight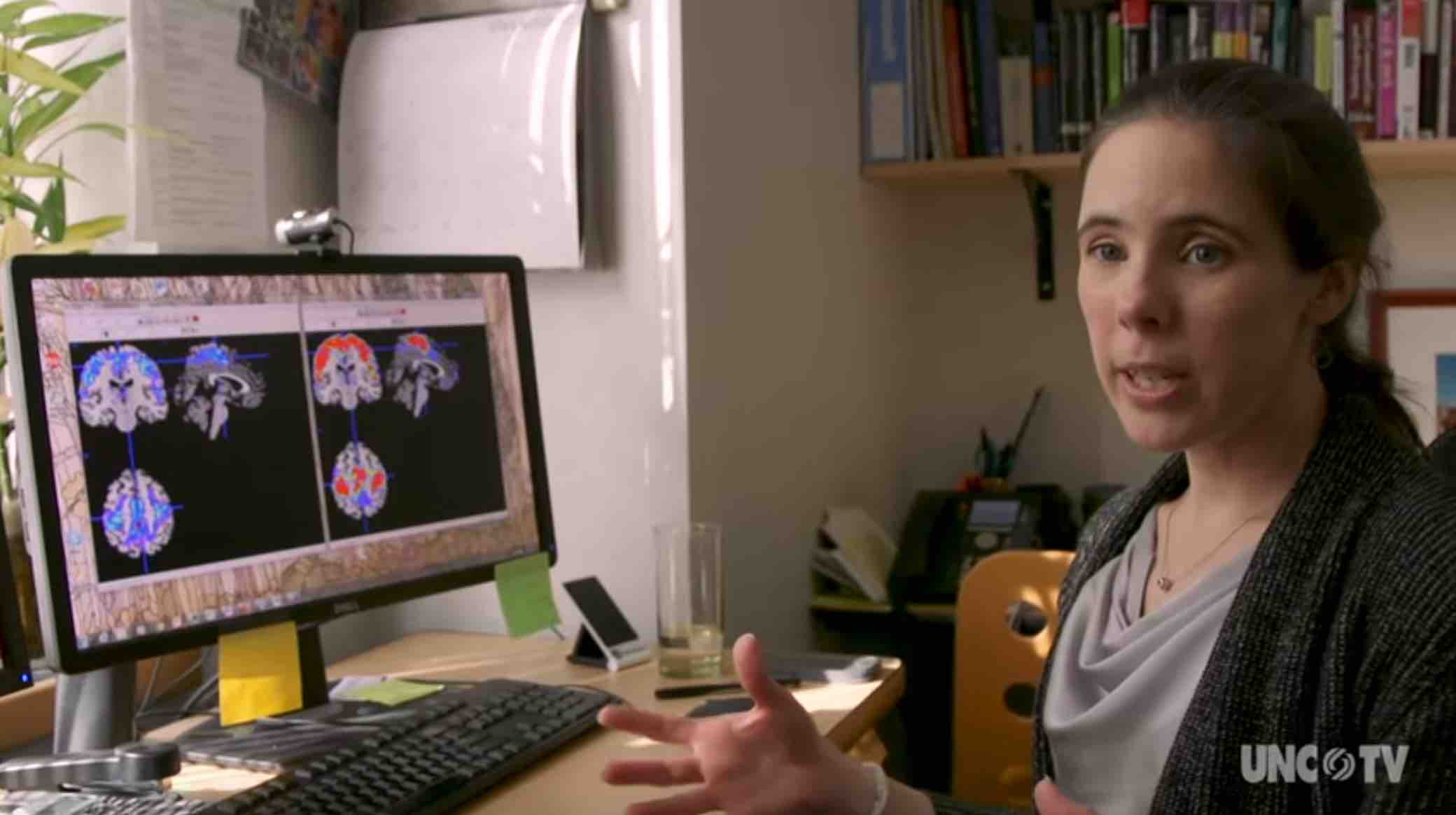 For Hugenschmidt, the game-changing insight of her initial Research Studio was one she had not anticipated. "One of the most valuable things that they said was just the idea to treat [the study] almost like a pharmacological study. If this were a drug, how would you test this and what would be the benefits of it? It shaped some of our thinking about it and how we phrased some of the language around it in an important way."
(Image at right: Dr Hugenschmidt featured in UNC-TV's Documentary: "How improv dance helps people with memory loss")
Next Steps
What's next for Hugenschmidt? Since the initial grant came to an end, she reached out to Team Science to coordinate another studio. With a new set of questions, she held a second Research Studio in March 2020, knowing there are several possible good directions. Now, more than ever, Hugenschmidt knows the truth: "This is a creative process. This isn't a finishing process or a polishing process or somebody-gives-you-feedback process. This is a creative process where you get [the right, multi-disciplinary] people in that room."
If you are interested in requesting your own Research Studio,
submit a request today through the CTSI Service Request form
. After giving a few details about your study, select the specialties and areas of expertise you think would be most valuable, and list the questions you already know are there. From there, let out Team Science team members coordinate and identify experts right for your Research Studio.