NOTICE:
Thee 2020 Quality Improvement Showcase has been canceled.
The Quality Improvement Showcase is a forum to highlight outstanding quality improvement projects designed and implemented by Medical Center trainees, including residents, fellows, medical students, and graduate students, or early career faculty, as either individual or team efforts. The Showcase will include a poster session of all submitted projects, oral presentations from the top-ranking trainee projects, and awards for the Quality Improvement Project of the Year.
Quality improvement is a critical component of the learning healthcare system which "aligns science and informatics, patient-clinician partnerships, incentives, and a culture of continuous improvement to produce the best care at lower cost." (Institute of Medicine, 2012).
Quality Improvement Resources
Quality Improvement versus Research
The Institutional Review Board (IRB) is responsible for the oversight of human subjects research. In general, quality improvement projects do not meet the definition of research and therefore are not under the jurisdiction of the IRB. If you have questions about whether or not your project requires IRB approval, please contact the IRB Office.
The following FAQs will help you determine if your project is QI or research.
What is the definition of research?
Research means a systematic investigation, including research development, testing and evaluation, designed to develop or contribute to generalizable knowledge.
What is the definition of a human subject?
Human subject means a living individual about whom an investigator (whether professional or student) conducting research obtains data through intervention or interaction with the individual, or identifiable private information.
Does a project require IRB oversight?
Only projects that meet the definition of research that involves human subjects require IRB approval.
What is the definition of generalizable knowledge?
Knowledge from which conclusions will be drawn that can be applied to populations outside of the specific study population. This usually includes one or more of the following concepts:
Knowledge that contributes to a theoretical framework of an established body of knowledge
The primary beneficiaries of the research are other researchers, scholars, and practitioners in the field of study
Dissemination of the results is intended to inform the field of study (though this alone does not make an activity constitute research "designed to contribute to generalizable knowledge")
The results are expected to be generalized to a larger population beyond the site of data collection
The results are intended to be replicated in other settings
Can QI projects be published?
Yes. However, be careful to correctly describe the project as QI in your manuscript. Publishers may require verification of IRB approval if the project is deemed to be research.
Data Management Tools and Services
Clinical Data Access
In support of quality improvement projects, trainees can utilize CTSI tools and services for feasibility assessment and retrieval of data from the Translational Data Warehouse.

Some queries can be completed on a self-serve basis, others may require assistance from the CTSI Data Team. If a trainee submits a Service Request Form for advanced data assistance, he/she should provide a faculty mentor/supervisor's name and contact information.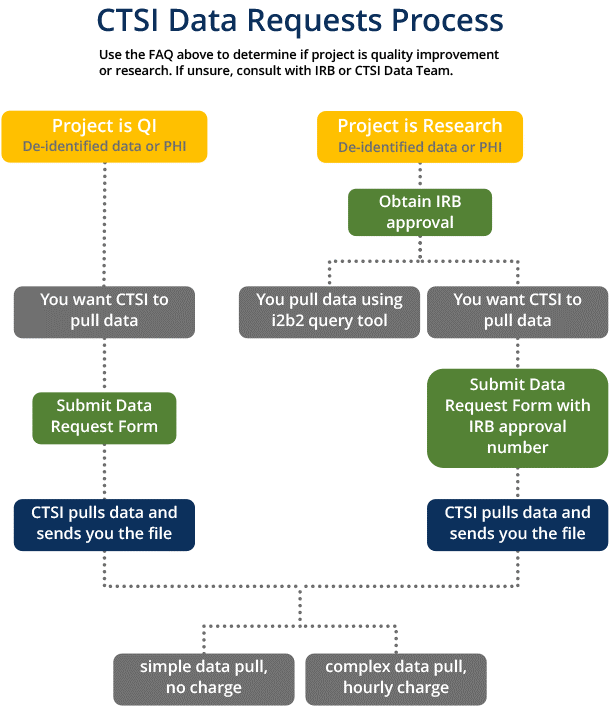 Visit the Data Extraction page to learn more about the specific tools and services, associated guidelines, and prerequisite training requirements.
Surveys and Databases
REDCap is a free, secure web-based application for building and managing online surveys and databases. Medical Center users can login to REDCap with their Wake Health credentials. Online training materials are available as well as in-person classes.
Biostatistics Consultation
Open Biostatistical consultation hours are available to trainees, staff, and faculty who need general advice about project design, data measures, and the analysis plan. Please be sure to indicate that the consultation is related to a quality improvement project. More extensive services are available on a fee for service basis. For questions, contact CTSI@wakehealth.edu.