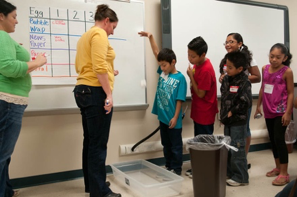 The Program in Community Engagement actively pursues partnerships with Winston-Salem, Forsyth County Schools with the goal enhancing K-12 student learning and engagement in the areas of science, technology, engineering and math (STEM). Wake Forest School of Medicine faculty, students and staff can participate as volunteers in various projects that are ongoing.

For the 2016-2017 school year we implemented a pilot program in which volunteers led in-class enrichment sessions designed to enhance NC science curriculum topics related to biomedicine and health and presented career options as related to the study topics. Our partnership for the project was with Cook Literacy Model School.

In the spring we will be recruiting students, staff and faculty to assist with interactive classroom sessions for 5th graders on human body systems, cells and medical imaging.